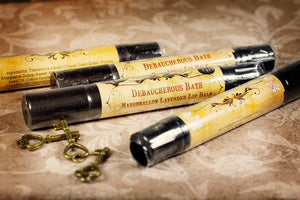 Honey Lip Balm
Soften your kisser with our creamy blend of moisturizing oils and butters.
Flavor:
Golden amber honey dripping from fresh honeycomb.
This lip balm is vegan and does not contain any actual honey or beeswax.
Ingredients:
Coconut Oil, Shea Butter, Sweet Almond Oil, Cocoa Butter, Avocado Oil, Carnauba and Candelila wax and Vitamin E. Lightly sweetened.

Net wt. .07oz

Please Note: The propel-repel mechanism in our tubes was made for a twist up use only, these are not like lipstick tubes that can be twisted up and then back down. Only twist out what is needed at time of use. Failing to do so can result in product being wasted and not being able to be twisted back into the tube. This is just the nature of the packaging and does not constitute a defective product and is not subject to replacement, refund or exchange.
---
More from this collection